About us
We are a group of farm organisations from Cairns Group countries, a coalition of agricultural exporting countries. Together, we represent farmers that grow and produce over one third of the world's agricultural exports.
There is a lot at stake for the farmers we represent.
It is our vision to create a world with an equitable and enforceable rules-based trading system in agriculture. We want to create the opportunity for our farmers to benefit from a sustainable agriculture sector and to contribute to the socio-economic development of our countries.
We are calling all World Trade Organisation members to deliver on the Doha mandate from 2001:
Improve market access to enable more open, effective and equitable access for all products;
Reduce trade and production distorting domestic support;
Allow developing countries to unlock the potential of their agricultural industries by giving them meaningful special and differential treatment.
As the Cairns Group Farm Leaders, we are closely consulted by our governments to frame Cairns Group policies and positions.
History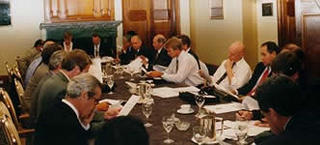 We, the Cairns Group Farm Leaders, were established in 1998 by the
Australian National Farmers' Federation (NFF) and we hold regular
meetings in conjunction with the Cairns Group Ministers' meetings. The Cairns Group Farm Leaders are the advocacy body for farmers.
Our political equivalent, the Cairns Group of Fair Trading Nations, was formed in 1986 by 14 developed and developing countries to break down trade barriers in the toughest game in town – agriculture.
The Cairns Group operates through Ministers and officials at a government to government level.
Agriculture traditionally has high levels of protection in both domestic and international trade, making agriculture the most distorted sector of world trade.
The Cairns Group has the objective to progress agricultural trade liberalisation within the World Trade Organisation (WTO) and continuously puts agriculture on the multilateral trade agenda. The Cairns Group is a prime example of international coalition building to reform a key sector of world trade.
Organisations represented in Sydney